The nursery Kids Care was founded in 2001. At first, the idea was to to assist newly arrived english-speaking families integrate their children into Neuchatel. Since then, there have been numerous changes in terms of the premises and our willingness to welcome families from different cultures, religions and language groups. Kids care is a multilingual nursery whose multicultural environment generates interculturality.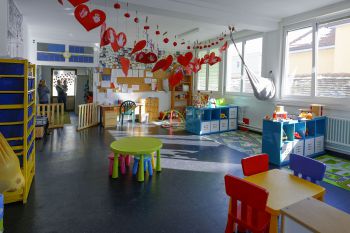 Our nursery is a day-care center that takes care of children aged 0 to 4 years and is subsidised by the Canton of Neuchatel. They are supervised by a team of professional educators as well as apprentices and trainees who are willing to join the profession of child carers.
The nursery provides children with a living environment that enables them to develop their aptitudes, such as fine motor coordination, cognitive and social skills, in cooperation with the families. This environment encourages discovery, creativity, spontaneity and mobility. The well-being of everyone is the essential foundation of the nursery.
These objectives and aims have been stated in our mission and included in the "projet pédagogique".
The professionalism, regular staff meetings and continuous training assist us in supporting our objectives.